WARNING - This Stock May Or May Not Be Faulty
But At This Price You Still Come Out On Top!
We have a batch of tents where 25% have had a fault with the mesh door, however 75% have been perfectly OK. The problem is we don't know which ones are which. So we have decided to give you the opportunity to buy these tents at a truely ridiculous, never to be repeated price.
It it most likely that you will receive a tent that is in perfect condition, however there is a chance that the tent could have some holes in the mesh door on the main tent. We will be providing a replacement mesh door free of charge with every tent, just in case you need it. If you do get a tent that has this fault, then you (or a canvas repairer) can sew the replacement door in to fix the problem.
So take a punt, the odd's are certainly in your favour. It's most likely you'll receive a perfect tent at a bargain price ... if not you get a heavily discounted tent that can be fixed without compromising its great looks.
Limited Offer, Be Quick - only
8

5

1

remaining!

SAVE Big $$$$
Shared Experiences Bind Families Together
With the pace of life so fast, sometimes those things that matter most begin to unintentionally take a back seat and suffer
Did you know that people who regularly take holidays have better health, better relationships, less stress and more energy? They can focus clearly, have greater job satisfaction and achieve much in a short space of time. It's also a great excuse to unleash the inner child tucked away inside us all.
If you had to think back to one of the best times in your life, would it have been the time you were completely stressed out and run off your feet, trying to meet a deadline? When you broke the kids hearts yet again because you didn't have time to spend with them? The many nights your partner rolled over silently in bed, because of the love affair you were having with your job?
OR would it be doing something you absolutely loved, your kids thinking you're the next best thing to Christmas and your partner constantly reminding you how lucky she is to have a man like you in her life?
A weekend camping in this could have you trading your obsession with work for one the whole family can enjoy!
Let me share a story with you. Not too long ago my husband had what you would call a "wake up" call. Being a very committed man, he had more than done his share of work. Emotionally and physically drained he was forced to take time off, despite thinking he couldn't afford nor find the time to. In hindsight it was one of the best decisions he had ever made!
We hitched up the trailer camper and took off, with the intention of chilling out no matter what it took! We had no idea where we would end up or what to expect when a dirt track, barely noticeable because it was so overgrown, caught my eye.


You never know what destiny awaits
you at the end of a dirt track
Of course we had to explore it! A little rough and bumpy but that was ok, until rough and bumpy turned into huge ditches that caused us to slow to a crawling pace, but what waited at the other end was more than worth it! A luscious green valley in the middle of the mountains and not a soul in sight. We couldn't believe our luck!
Our tent was up and ready in no time at all and we were off exploring. I must admit we go a little crazy when no one's around, singing camp ditties at the top of our lungs (some more than others) much to my children's embarrassment.
"We got exactly what we were after, the kids love it."
David Clarke, SA
The kids were tickled pink when we arrived at a waterfall set amongst some caves that had glow worms in them. Coming back to a tent that was like a cubby to them and a haven for us, was very welcoming at the end of the day.
One day we decided to play Robinson Crusoe, making use of the rain that had pooled on a tarp and using it as a shower. The kids thought our adventurous streak was a little too out there, but a dare is a dare. Hoping our squeals didn't override the sound of incoming visitors, we braved the cold and then rewarded our bravery with hot chocolate and marshmallows all round.
This is what camping is all about – FUN!
Camping is to the soul what a massage is to the body
V–E–R–Y relaxing! It wasn't long before our busy minds and bodies completely unwound. Laughter flowed easily and often. We began to see each other's good points again, instead of being so stressed we only saw the bad. Tension vanished leaving in its place a deep feeling of contentment. It was just what we needed!
When we returned home, life wasn't so much of a chore, but more like a game we were willing to play and have fun doing it. Mountains became mole hills and the difficult tasks simple again. We were getting the results we wanted in all areas of our lives - kids included.
BUT THE BEST PART: Hubbie was SO impressed with the change that had come over everyone, he vowed as a family we'd do this more often. In fact it was stronger than that, he said "we had to!"
He was getting through his work quicker and knocking off earlier because his head was in the right place. The kids now get to spend quality time with Dad on a regular basis, and I fell in love with my man all over again.
WHY AM I TELLING YOU ALL THIS? Because if this is possible for us, then it is more than possible for you!
Start planning for that trip NOW because we have the perfect tent compatible for you
Our tents come fitted to a heavy duty marine ply base with framework fitted to accommodate most trailer sizes. Assembling it to your 6x4, 7x4, 7x5 or 8x5 trailer couldn't be simpler. Keep your trailer stocked up and you have an instant holiday ready to go.
"Just fitted it myself (very easy) Heavy Duty
Put it up under 15min, 1st time" Scott Woods, ACT
How good are you going to be to feel being so popular, knowing you're the one responsible for the huge grin on your family's faces?
You could be waking up to one of those days we all dream about – carefree with no commitments, deadlines or people breathing down your neck. Doing what you want, WHEN you want to do it! I can hear that sigh of relief already – and trust me it feels WONDERFUL!
Take a look at the following benefits and put yourself in the picture. You could be the proud new owner of a tent that:
Can be set up in under 15 minutes – less time setting up more time camping
Is totally self supporting – guy ropes are not essential but are included and recommended in adverse weather conditions (to keep the tent in shape and to stop water from pooling on the roof)
Completely waterproof – no more wet bedding or nasty surprises
Your very own private parent's quarters with a comfy king size mattress, washable cover and added PVC around the base to prevent moisture transfer
A removable privacy screen – separating your bedroom from the main tent area
Square rung ladder for accessing bed – much more comfy underfoot than rounded rungs
Hatches underneath the mattress to access the trailer (also accessible through the tailgate)
PVC flooring that extends up the walls of the main tent for extra waterproofing, ensuring the floor stays dry
Fine mesh netting and monster zips on all windows and doors - even keeping out the midges
Storage pockets throughout for essential items like torches etc
Zippered access for power cord in the main tent
Spacious, roomy, plenty of airflow and ambient light
A 12 month warranty against manufacturing faults and a 14 day money back guarantee (if returned in its original condition)
Buy today and get the annex for FREE!
Plus Receive
Our

FREE

colour illustrated tent set up guide - walking you through the various stages of set up. Written with the first time camper in mind - you will find this very self explanatory. (We do recommend you set this up at home a few times to familiarise yourself with the process before setting off on your first trip)
Our

FREE

trailer installation guide - if you've ever felt you've been blessed with two left hands – not to worry, this step by step guide will answer all your questions simply
Our

FREE

eBook "Caring for canvas" - explaining some of the ways you can maintain your tents great looks and longevity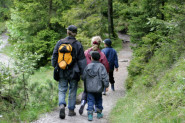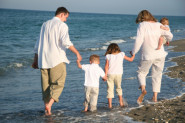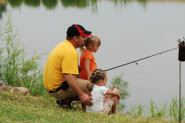 Buy Now! Get the Annex Free

Specifications and Features
Please Note the Trailer is Not Included in this sale
Blue Walls with Light Grey Roof to help repel the heat
Heavy Duty 14oz Extra Tough RipStop Canvas to resist wear & tear
Seams are Double Stitched for extra strength
Waterproof to keep you dry when the weather changes
Total Area 25.15m² to give you plenty of room when you need it
Main Tent Area 12.31m² just put this up for quick easy stops
450 g/m² Grid PVC Main Tent Floor fully sewn in and sealed
Annex Area 12.84m² convenient for when you need more room
Removable Awning Roof that can be quickly attached with zip & Velcro
Annex Walls that quickly attach to the roof and floor with Velcro
Self Supporting Tent with Easy Foldout Design
Pegs and Guide Ropes included for adverse conditions
Stainless steel D–Rings to prevent rust
Water-guide pad to ensure water does not pool on the annex roof
Telescopic 25mm/22mm diameter poles for quick setup
Pivoting Poles that fold out in the main tent area
PVC lining under Pivoting Poles to prevent canvas wear
King Size 80mm Foam Mattress with washable zip off cover
Extra PVC lining around Mattress to prevent moisture transfer
Convenient light weight Ladder to access the bed area
Ladder, annex poles, and pegs come in their own bags
18mm Marine Plywood Base with strong steel frame
Two Trailer Access Hatches under the mattress
Access also available from trailer tail gate
Large mosquito proof Windows for air and light
Half PVC Window to allow light in when it is raining.
Canvas Zip Closing Window Covers with Velcro and Eyelets
Removable Privacy Screen with U shaped zippered opening
All Doors and Windows have mosquito proof netting
Heavy Duty Monster Zippers on all doors
Heavy Duty Red PVC Travel Cover with Velcro and Zip
Ideal trailer height 100cm to 110cm
Suited to 7'x4', 6'x4' and 7'x5' trailers
Weight as packaged for shipment approximately 181kg
Brand New in Box with box dimensions 231cm x 178cm x 21cm
All this could be yours today!

Why buy from us?
We get immense satisfaction providing solutions that will give YOU the ultimate camping experience, not something that's second best. Our policy on product selection is: "If it's not good enough for us - it's not good enough for our customers"
Nothing can beat the feeling of knowing a job is well done and that you've helped someone along the way
We believe in treating others with respect, we will take time for you, and are happy to answer any questions you might have. Please give us a call on 1300 TCAMPER (1300 822 673) or email us for a response within one business day (or sooner) at either or
As a business we ensure all our policies go above and beyond the requirements of the new consumer law so that our customers know they are protected. Unfortunately if you buy a product in an Auction, the seller does not have to comply with this law, and you may not be protected if something goes wrong. You can read our terms and conditions here. here.
You might like to go to our Trailer Frequently Asked Questions Trailer Frequently Asked Questions page to find the answers to common questions. For more information about us and our products see our About Me About Us page.
"Awesome tent trailer... very happy, extremely nice people
to deal with 10/10" Danial Lister, QLD

What Do Our Buyers Say?
After a lot of shopping around for camper trailers, my partner & I decided on purchasing the camper top from TrailerCampers.

Not only were we impressed with the delivery time, but when setting it up at home we were amazed at the size and ease at erecting it for the first time! Even two of our neighbours (who have their own camper trailers from other suppliers) came to inspect ours, and both couples were very impressed as ours was bigger than theirs, had a better floor plan layout and it cost far less than what they had paid!

Our first camping trip survived a "mini cyclone", and the camper top stood up to the challenge, other than some minor issues with a few D-rings. After contacting Steve and Anne at TrailerCampers and receiving fantastic customer support, the problem was rectified immediately and we received replacement products. The service went above and beyond our expectations.

On many occasions other campers have stopped by to inspect our camper and we cannot speak highly enough of TrailerCampers and have recommended them to everyone who is interested in camping or purchasing a camper top. Superior product and superior service! Thanks Steve & Anne.

Mario Kyriacou & Rachelle Hinz, NSW

Warranty
Due to our quality control process we are able to offer a 14 day Money Back Satisfaction Guarantee and a 12 month warranty on all our tents. Please note this relates to manufacturing defects and not to transit damage which is covered by the optional (but highly recommended) insurance as described below.
Please note that due to the notice at the top of this page, there is no warranty on the mesh door on the main tent — however a replacement mesh door is provided free of charge. Also tents can not be returned under our satisfaction guarantee due to the issue with the door. If you would like a tent that is fully covered by our normal warranty and satisfaction guarantee, then please buy from one of our other listings.

Shipping and Insurance
Free Pickup is available from our Yennora Warehouse near Fairfield in Sydney. Pickups can be made from 7am to 4pm Monday to Friday.
Our tents are shipped to the nearest depot where you can collect them at your convenience. Depots are located in most major towns and regional centres. If you have a registered business with a forklift, then we can deliver to your door. Our major city depots are listed below, please email for depot details for regional areas.
Freight Cost Calculation

Enter Your PostCode,
or Select A Major Depot For Freight Cost
Insurance is available at a flat rate of $50 per tent. This covers loss or damage whilst in transit and is highly recommended, it is a small price to pay to protect your investment. Items are usually shipped within 1 business day of cleared payment. Please make sure you provide us with a phone number for delivery arrangements.

So What Is Included?
Main Tent with Extra Tough 14oz RipStop Canvas - Blue Walls, Light Grey Roof
Floor for annex that seals with Velcro
Skirt that covers the trailer tailgate
King Size 80mm Foam Mattress with surrounding PVC
Lightweight ladder
Pegs and Guide Ropes for adverse conditions
Water-guide pad to ensure water does not pool on roof
Eyelets on the Window Covers so you can use them as mini-awnings
Heavy Duty PVC Travel Cover
FREE BONUS 1: Comprehensive Illustrated Setup Guide written for the first time camper
Click here for a preview (you receive a printable copy on purchase) Click here for a preview (you receive a printable copy on purchase)
FREE BONUS 2: Tent Repair Kit, just in case you ever need it
FREE BONUS 3: A copy of our full colour Installation Guide to show you some of the ways you can install your tent
FREE BONUS 4: Our new eBook Caring For Canvas, which shows you how to prepare your tent and maximise it's life
PLUS Order Today and Get the Annex FREE
with Removable Awning Roof that attaches with zip and Velcro
Annex that attaches to the main tent and awning with Velcro
Your life is a story in progress, the next
exciting chapter is about to begin!
Want a sneak peek of what it could look like? ..... EXTRADIONARY is all I can say! Immerse yourself in the experience and create your very own never ending story, each chapter better than the last – leaving you with an insatiable appetite for more.
So if you've ever been told to get a life, or want to improve the one you've got, here's the perfect opportunity! Contact us today. Do yourself and your family a HUGE favour (or Humorgous as my daughter would say).
Camping can be an amazing experience and having the right gear can make all the difference between packing it in after the first night or finding every excuse under the sun to stay as long as you can.
Buy Now!
Get the Annex FREE
Never To Be Repeated Price
Buy Now! for Just $1,447
Never To Be Repeated Price

or Call 1300 TCAMPER
(1300 822 673)
Grey Tents in Store
Grey Tents in Store
Main Tent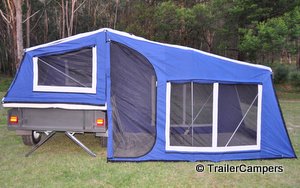 Main Tent with Annex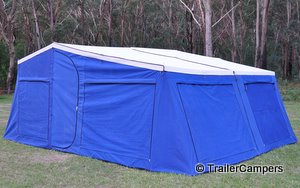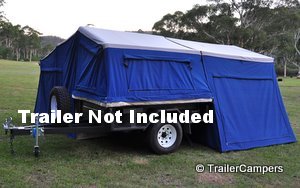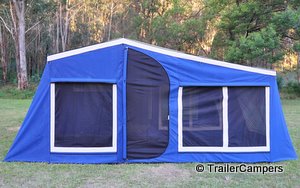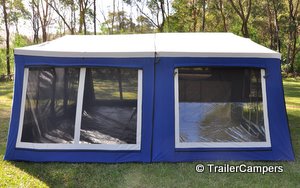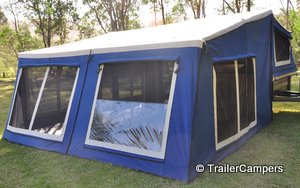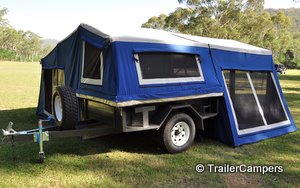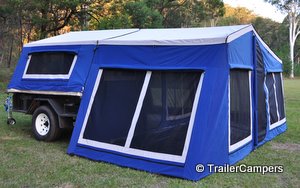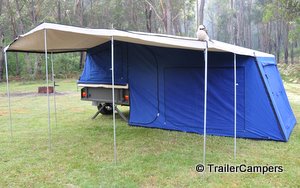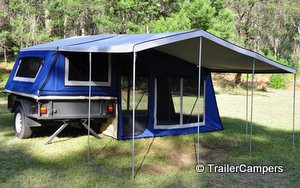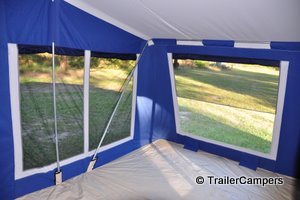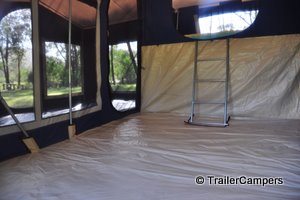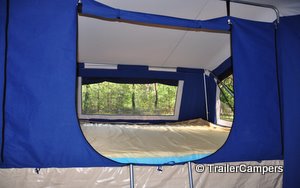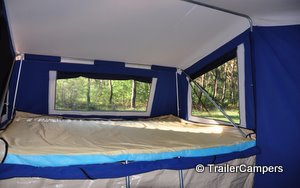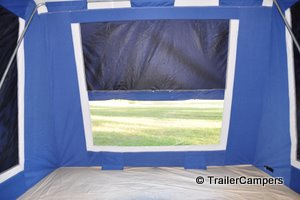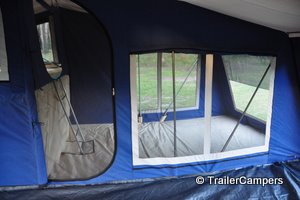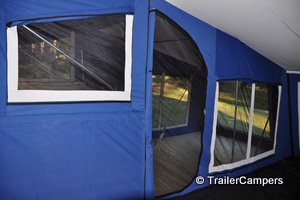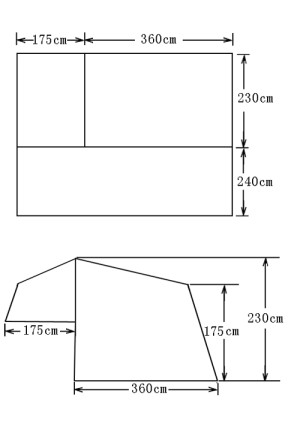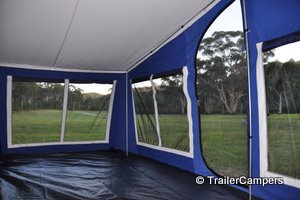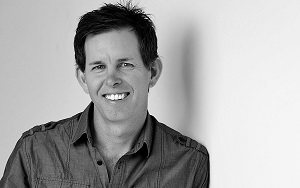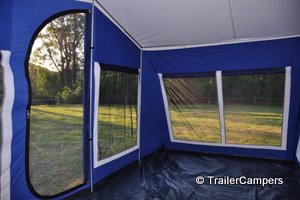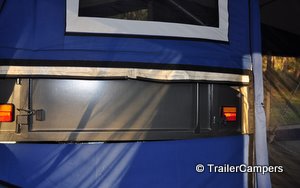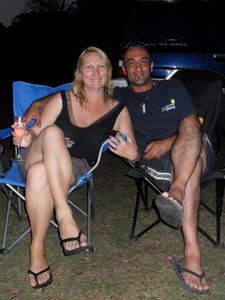 Rachelle & Mario (above)
Their kids & friends (below)