Limited Offer - Get the Annex FREE
Announcing - New Tent Design
Four Minute Set Up
With Gas Strut Assistance
Superman NOT required!
Now you can safely put your tent up

ON- YOUR- OWN

without putting your back at risk... Redefine Independence....
And Live Life On Your Terms!

What have you been missing on, at no fault of your own, SIMPLY because you couldn't find a camper tent that didn't need Superman to lift it, a rocket scientist to get his brain around and hired help to set it up?

The weather's BRILLIANT, the fish are biting and you could r-e-a-l-l-y handle a tinny or two around a crackling camp fire .... only here you are suck at home, destined to do what you wish you didn't have to, with a list of chores your missus thought you might like to do on your weekend off.

Well....we come bearing good news! Can't help with the chores BUT - Have we got the right tent for you!!

This little baby boasts GAS STRUT ASSISTANCE and can be set up "Single Handed" in under 4 minutes! Yep, you heard me right!!

You get the benefits of a hard floor camper with its fast and easy set up – only without the hard floor and the hefty price tag attached.

Watch the demo in the video above, and then pick your jaw up off the ground because this truly is as easy as it looks!

Now there's nothing stopping from high tailing out of here, claiming your own piece of turf and doing your own thing!

If you want
Fast Results

– only 4 minutes to set up

No heavy lifting

– safer for your back

Minimum effort

– so you can set it up on your own
Then allow me to introduce – Your New "Travelling Companion."
Apart from a few minor adjustments on the initial set up, your tent will pitch itself to the correct height every time it's used - eliminating a lot of unnecessary fiddling around!
Now YOU can be camping sooner rather than later!
Simply unfold ... and the gas struts will do ALL the heavy lifting for you. Put the pegs and ladder in, then you're "Done and Dusted" my friend! EASY AS!!
So simple - Mum's you can do it!
You won't feel like an athlete after an intense training session
Your back will thank you for giving it the day off
And you won't have wasted valuable time, that could be been better spent elsewhere!
All work and no play makes for a very boring life - don't you think?
NOW armed with a "Can Do" approach to camping you need NEVER limit yourself again! Nor allow circumstances to dictate what you can and can't do! Putting you in a very powerful position - Now you can "Redefine Independence" and live life "On Your Terms"!
The expansive outdoors will be yours to explore. What could be more satisfying than pampering yourself with some "Time Out" while you lose yourself in your favourite pastime, ... then nestling down beside a cosy camp fire with the flames hypnotising you into a memorised state of euphoria!
Could you handle being smitten with the above scenario and making this the foundation to build incredible memories upon?
Before you answer that one - ask yourself, "Is my time valuable".... and if so do I really want to waste more of it running around in circles in search of a better deal ...knowing all along I've already found it?
"This is has YOUR name written ALL over it!"
STOP tormenting yourself ... do yourself a favour and BUY IT NOW!
You'll have a tent that's ready when you need it – NOT ½ hour later when you've been caught in the rain drenched to the bone OR dead tired on your feet and can't be bothered stuffing around!
What could be more liberating than taking off and taking each day as it comes, accepting of company if you want it and closing the door to it, if you don't?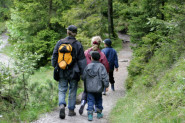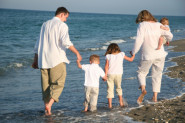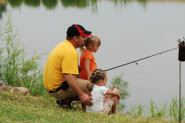 Buy Now! Get the Annex Free

Specifications and Features
Self Supporting Tent with easy fold out design – a one man job to set up!
18mm Marine Plywood Base with  steel framing to accommodate most trailer sizes (6x4, 7x4, 7x5, 8x5)
Total weight as packaged for shipment 142 kg
Brand New in Box -  dimensions 231cms x 178cm x 21cm
Heavy Duty Red travel Cover 450gsm with Velcro and Zip – ensuring everything stays dry and dust free


Total tent area 18.94m² - plenty of room to comfortably sleep 3 or 4 (Ideal for the lone camper who wants a bit of space but roomy enough to invite a couple of friends or cater for a small family)
Dark Grey Walls with Light Grey Roof
 Waterproof –so there's no threat of rain ruining a trip away
Heavy Duty 14oz Extra Tough Rip Stop Canvas -  to resist wear and tear
All seams double stitched - for extra strength


Main Tent Area 8.85m² with gas strut assistance – does all the heavy lifting for you, easy to set up by one person
 Main Tent Floor fully sealed and sewn in, extending up walls 100mm for extra waterproofing  - made from 450g/m² Grid PVC  
Free Annex measuring  10.08m² -  to extend your tent  
Annex Walls in 3 separate pieces – easier to put up and versatile when it comes to choosing your set up
Annex walls attached to Main Tent and awning with Heavy Duty Velcro
Annex floor attachable by Velcro
Removable Awning Roof which attaches with a zip and Heavy Duty Velcro
Includes spreader poles for the awning


Pegs and guys ropes included for adverse weather conditions, though not necessary under calm conditions
Stainless Steel D rings – to prevent rust
Water guide pad – to stop water pooling on the roof
Pivoting poles that fold out into the main tent with PVC lining underneath - to prevent canvas wear


King Size 80mm Foam Mattress with washable zip off cover
Extra PVC lining around the mattress – to stop moisture transfer
Removable privacy screen with U shaped zipper to bedding compartment – for additional privacy
Light weight ladder to access the bed with square rungs – for better comfort underfoot
PVC mat under the ladder to protect the floor
Zippered opening at floor level in Main Tent for power cord access


Two trailer access hatches under the mattress
U-shaped zippered compartment  to access  the side of the trailer  – giving you access from inside the tent
½  PVC Wet weather Window -  to allow light in while keeping the rain out
All windows had eyelets and can be pegged out – two have rain shields for extra protection
Mosquito proof netting on all doors and windows, monster zips on doors for extra strength
PLUS
We've Included 4 Extra Bonuses!
Our

FREE

trailer installation guide – Offering clear step by step illustrations in detail showing you the various ways you can install this to your trailer. If followed, this will eliminate a lot of guesswork making it a project you'll enjoy doing –

Valued at $30

Our

FREE

tent set up guide – A no brainer step by step illustrated guide written with the first time camper in mind – This is something we've done ourselves, not the vague black and white piece of nonsense called "instructions" that comes included in the package –

Valued at $30

Our

FREE

eBook "Caring for canvas" – Explaining some of the ways you can maintain your tents great looks and longevity –

Valued at $47

Our

FREE

tent repair kit – Should it be needed. This is a rip stop canvas, however accidents happen. Should you have the misfortune of tearing your canvas, the tear will NOT continue to rip like traditional canvas, but stay contained within the small square grid. –

Valued at $54
And
if you buy today ... we'll even throw in the annex in for
FREE
saving you another
$395
That's a total saving of $556 because we aim to please and you deserve to be treated!
Please note trailer is not included in this sale Truth is we earnestly looked into providing these for our customers but found it wasn't economical for us or them. Many preferred to purchase these separately and save $$$ or they had their own. However ... we do have several trailer manufacturers we can recommend to you (depending on where you live.)
New to buying on line or a little sceptical in doing so? We understand exactly where you're coming because we've been there too. You might like to read our "Warranty" and "Why Buy From Us" sections below, as well as the testimonial tab at the top of this page.
The thing is.... by NOT having a store we BOTH benefit - we avoid having to pay expensive overheads and YOU get the product you WANT at a massively discounted price!
That's money we BOTH get to keep in our wallets! ....We've included plenty of photos from as many angles as possible to make up for this ... in the highly unlikelyevent that this isn't as described, we'll refund you the entire amount.

Why buy from us?
"If you read nothing else read this or it could come back to bite you!"
Because we watch your back! NEVER assume that because a tent looks similar or identical to others in the market they are the same - BIG MISTAKE! Not all manufactures work to the same standard and workmanship varies from place to place. This is WHY we took our research a step further to travel overseas and meet with the company we chose to do business with. Not only did it confirm we chose the right the right company, but in doing so we avoided the "middleman" - who's not at all interested in quality, only lining his pockets with your hard earned cash at YOUR expense! Besides we were looking out for number one here too, our reputation was at stake.)
If something's an absolute "steal" you'd better know "why" BEFORE jumping in with both guns blazing. Cheap as chips is fine if there's a legit reason for it (again that middleman.) If you want cheap and nasty, sorry that's NOT US. Quick fixes don't compensate for LONG term satisfaction!
As a business we ensure ALL our policies go above and beyond the requirements of the new consumer law so that our customers know they are protected. Unfortunately if you buy a product in an Auction, the seller does not have to comply with this law, and you may not be protected if something goes wrong. You can read our terms and conditions here.
We only sell to the public what we're prepared to use (and do use ourselves) if other sellers aren't using their own products they'd better have a good reason why not?
While it's one thing to have a great product, it's another to have it backed up with excellent service. One at the expense of the other leaves a bitter aftertaste, robbing you of the pleasure that "could have been" had EVERYTHING been to your liking.
You can call us on 1300 TCAMPER (1300 822 673) or email us for a response within one business day (or sooner) at either or
You might like to go to our Trailer Frequently Asked Questions Trailer Frequently Asked Questions page to find the answers to common questions. For more information about us and our products see our About Me About Us page.
"Awesome tent trailer... very happy, extremely nice people
to deal with 10/10" Danial Lister, QLD

What Do Our Buyers Say?
"After a lot of shopping around for camper trailers, my partner & I decided on purchasing the camper top from TrailerCampers.

Not only were we impressed with the delivery time, but when setting it up at home we were amazed at the size and ease at erecting it for the first time! Even two of our neighbours (who have their own camper trailers from other suppliers) came to inspect ours, and both couples were very impressed as ours was bigger than theirs, had a better floor plan layout and it cost far less than what they had paid!

Our first camping trip survived a "mini cyclone", and the camper top stood up to the challenge, other than some minor issues with a few D-rings. After contacting Steve and Anne at TrailerCampers and receiving fantastic customer support, the problem was rectified immediately and we received replacement products. The service went above and beyond our expectations.

On many occasions other campers have stopped by to inspect our camper and we cannot speak highly enough of TrailerCampers and have recommended them to everyone who is interested in camping or purchasing a camper top. Superior product and superior service! Thanks Steve & Anne"

Mario Kyriacou & Rachelle Hinz, NSW

Warranty
Due to our quality control process we are able to offer a 14 day Money Back Satisfaction Guarantee and a 12 month warranty on all our tents. Please note this relates to manufacturing defects and not to transit damage which is covered by the optional (but highly recommended) insurance as described below.

Shipping and Insurance
Free Pickup is available from our Yennora Warehouse near Fairfield in Sydney. Pickups can be made from 7am to 4pm Monday to Friday.
Our tents are shipped to the nearest depot where you can collect them at your convenience. Depots are located in most major towns and regional centres. If you have a registered business with a forklift, then we can deliver to your door. Our major city depots are listed below, please email for depot details for regional areas.
Freight Cost Calculation

Enter Your PostCode,
or Select A Major Depot For Freight Cost
Insurance is available at a flat rate of $50 per tent. This covers loss or damage whilst in transit and is highly recommended, it is a small price to pay to protect your investment. Items are usually shipped within 1 business day of cleared payment. Please make sure you provide us with a phone number for delivery arrangements.

So What Is Included Again?
Main Tent with Extra Tough 14oz RipStop Canvas - Dark Grey Walls, Light Grey Roof
Floor for annex that seals with Velcro
Skirt that covers the trailer tailgate
King Size 80mm Foam Mattress with surrounding PVC
Lightweight ladder
Pegs and Guide Ropes for adverse conditions
Water-guide pad to ensure water does not pool on roof
Eyelets on the Window Covers so you can use them as mini-awnings
Heavy Duty PVC Travel Cover
FREE BONUS 1: Comprehensive Illustrated Setup Guide written for the first time camper
Click here for a preview (you receive a printable copy on purchase) Click herefor a preview (you receive a printable copy on purchase)
FREE BONUS 2: Tent Repair Kit, just in case you ever need it
FREE BONUS 3: A copy of our full colour Installation Guide to show you some of the ways you can install your tent
FREE BONUS 4: Our new eBook Caring For Canvas, explains how to weather your tent and maximise its life and keep its great looks!
And the
FREE ANNEX
if you order today
How many things do you own NEVER regretting having bought, because they've given you so much pleasure?
Then why deny yourself of them NOW?
With just one initial payment (or lay-by if you wish) you can snap up every opportunity that comes and spice up your life!
From where I stand you have 3 choices.
Ignore This (This Is Called Passing Up A Great Opportunity)
Be indecisive (And Regret It Later)
Own one for yourself  (And Feel Proud As Punch Because It's Better Than You Expected)
Call us TODAY but be quick! When you announce something new every man and his dog wants one...... and being a newbie we've started off small and bought in limited stock .... and if the phone ringing off the hook it's because they're selling like hot cakes ... but leave us your details and we'll get back to you ASAP!
PS: Most people live for the weekends, but have nothing to show for it. YOU on the other hand could turn yours into "Mini Holidays!"
PPS: Are you content doing what you've always done, or is it time for a change? Live life on your terms, break out of the cycle of living life robotically and take each day as it comes - accepting of company if you want it and closing the door if you don't?
PPPS Almost forgot to mention the referral system we have in place. How would you like to do your mate a favour and pocket $100 at the same time? When we receive a new that YOU have referred – we'll give them a discount on a tent and YOU $100. Consider it a personal thank you from us, for helping to grow our business.
Now let's see ... how would you like to spend that? Hmmm ..... I'll leave that one up to you!
You can call us on 1300 TCAMPER (1300 822 673) or email us at either or
Buy Now!
Get the Annex FREE
Buy Now! for Just $1,949
Don't Miss Out – Selling Fast

Other Styles in Store
Grey Tents in Store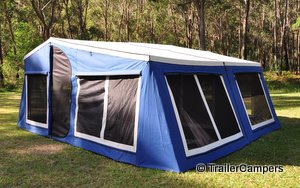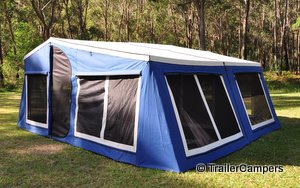 Main Tent
Main Tent with Annex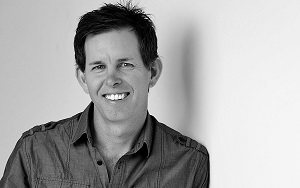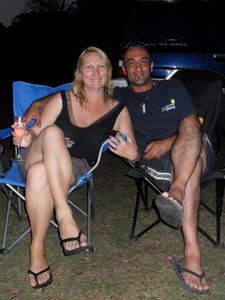 Rachelle & Mario (above)
Their kids & friends (below)